Swordfishtrombone
Well, he came home from the war with a party in his head
And a modified Brougham DeVille(2)
And a pair of legs that opened up like butterfly wings
And a mad dog that wouldn't sit still
He went and took up with a Salvation Army band girl
Who played 'Dirty Water'(3) from a swordfishtrombone
He went to sleep at the bottom of Tenkiller Lake(4)
He said, 'Gee, but it's great to be home'
Well, he came home from the war with a party in his head
And an idea for a fireworks display
And he knew that he'd be ready with a stainless steel machete
And a half a pint of Ballantines each day
And he holed up(5) in room above a hardware store
Cryin' nothin' there but Hollywood tears
And he put a spell on some poor little Crutchfield girl
And he stayed like that for twenty-seven years
He packed up all his expectations, he lit out for California
With a flyswatter banjo on his knee
With Lucky Tiger(6) in his angel hair, and Benzedrine for getting there
They found him in a eucalyptus tree
Lieutenant got him a canary bird, and skanked her head with every word
And Chesterfielded moonbeams in a song
He got twenty years for lovin' her from some Oklahoma governor
Said everything this doughboy(7) does is wrong
Now some say he's doin' the obituary mambo
Now some say that he's hangin' on the wall
Perhaps this yarn is the only thing that holds this man together
Some say that he was never here at all
Some say they saw him down in Birmingham(8)
Sleepin' in a boxcar goin' by
And if you think that you can tell a bigger tale
I swear to god you'd have to tell a lie
Written by: Tom Waits
Published by: Jalma Music admin. by Ackee Music Inc. (ASCAP), © 1983
Official release: Swordfishtrombones, Island Records Inc., 1983
Known covers:
Fjorton Sånger. Bad Liver & Hans Brustna Hjärtan. 1989. Nonstop Records (1989), City Records (re-release May, 1993) NSM 33-15 (in Swedish: "Svärdfisktrombon")
Rød Pust - Sven Henriksen synger Tom Waits, Sven Henriksen. 1996. Sonet (in Norwegian: "Sverdfisktrompet")
Spectors. The Spectors. June 6, 2000. The Orchard/ Rio Dinero
Saving All My Love For You (a tribute to Tom Waits). Claudia Bettinaglio. January, 2001. Taxim Records (Germany)
Ain't Your Train. The Tremors Bluesband. 2003. Self-released (live)
Kazik Staszewski "Piosenki Toma Waitsa". Kazik Staszewski. March, 2003. VIP Production / Luna Music: LUNCD 093-2 (in Polish)
Greetings From Hell - The Tom Waits Songbook, Hell Blues Choir. September, 2003. Tylden & Co (Norway)
Embarcadero Love. Clara Bellino. 2005. Self-released
Notes:
(1) Swordfishtrombone(s): There's some confusion over the spelling of the songtitle (with or without the S). The 1983 Ariola/ Eurodisc pressing has the song title spelled as "Swordfishtrombones". Other pressings seem to have it spelled as 'Swordfishtrombone".
- Tom Waits (1983): "That's the title song. It has kind of a Cuban night club feel to it. It's a story to try and give an overview of a character. We tried it with a lot of different ways. It was arranged differently with electric guitar and drums. We had trombone on it and trumpet and ended up..we.. I had to discard most of what we had done and completely rearrange it just to get it as simple as possible. So that it just kind of rolled and allowed me to tell the story over it without any interruptions. Tenkiller Lake, that's in Tulsa, Oklahoma. So, 'He came home from the war with a party in his head and an idea for fireworks display.' " (Source: "Tom Waits - Swordfishtrombones". Island Promo interview, 1983)
(2) Brougham DeVille: Classic Cadillac model.
- Brougham: Cadillac first used the name in 1916 to designate an enclosed 5-pass. sedan body style. In the thirties, the name was given to a formal body style with open chauffeur compartment and enclosed rear quarters, metal roof and often "razor-edged" styling; the name was revived in 1954/55 for the prototype of the future, exclusive, Eldorado 4-door sedans of 1957 through 1960; later still it was used on Fleetwood-bodied top-of-the-line sedans starting in 1965.
- DeVille: Refers to a town car that is "cut" by a division between the passenger and driver compartments. Cadillac began using the term - erroneously - in 1949 to designate a luxuriously appointed, two-door, pillarless 5-6 seater with no division between driver and passengers. After 1965 it came to designate the mid-range Cadillac models, between the "Calais" models, at the lower end of the price range, and the "Fleetwood" models at the top end. The name is still applied to a single model in the current [1997] diminutive range of Cadillac models. Alternative spellings have been witnessed: "Coupe (or Sedan) de Ville" and "deVille" [run together] (Source: The (new) Cadillac Database©, Glossary of Cadillac Terms and Definitions. © 1996, Yann Saunders and the Cadillac-LaSalle Club, Inc.)
(3) Dirty Water: Might refer to the blues classic "Dirty Water" by The Standells (1966). "Dirty Water" is a 12-bar blues song composed by Ed Cobb and first recorded by the California rock and roll band The Standells. The song is a paean to the city of Boston and its then-famously polluted Boston Harbor and Charles River: "I'm gonna tell you a story I'm gonna tell you about my town I'm gonna tell you a big bad story, baby Aww, it's all about my town Yeah, down by the river Down by the banks of the river Charles (aw, that's what's happenin' baby) That's where you'll find me Along with lovers, fuggers, and thieves (aw, but they're cool people) Well I love that dirty water Oh, Boston, you're my home (oh, you're the Number One place) Frustrated women (I mean they're frustrated) Have to be in by twelve o'clock (oh, that's a shame) But I'm wishin' and a-hopin, oh That just once those doors weren't locked (I like to save time for my baby to walk around) Well I love that dirty water Oh, Boston, you're my home (oh, yeah) Because I love that dirty water Oh, oh, Boston, you're my home (oh, yeah) Well, I love that dirty water (I love it, baby) I love that dirty water (I love Baw-stun) I love that dirty water (Have you heard about the Strangler?) I love that dirty water (I'm the man, I'm the man) I love that dirty water (Owww!) I love that dirty water (Come on, come on)"
(4) Tenkiller Lake: Lake Tenkiller is located in the Cookson Hills area of eastern Oklahoma. Further reading: Virtual Tenkiller, Lake Tenkiller Area Visitors Guide : "In 1947, the U.S. Corps of Engineers began construction of the Tenkiller Dam to create Tenkiller Lake. Several of the structures from the town were moved to higher ground. Among these were the old store and several small cabins which were relocated to their present location on Hwy. 82, next to the Post Office in Cookson. If you are passing through Cookson, you may want to stop and with the owners of what is now called the Cookson Coutry Store and Cabins. The store is still a popular gathering place and a great source of information. Several structures from the old town could not be moved, were left behind at the bottom of the lake, and are popular underwater destinations for scuba divers." (Source: Lake Tenkiller Area Visitors Guide, 2003)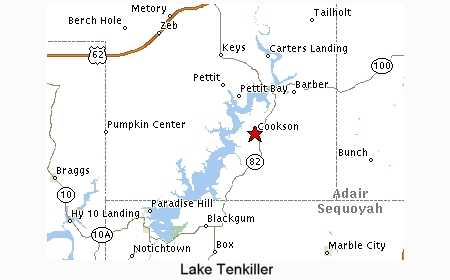 (5) Hole up v.: To hide out, as from the police; to hide or keep another person hidden. To secure temporary living quarters or a place to sleep, as a hotel room (Source: Dictionary Of American Slang, Wentworth/ Flexner)
(6) Lucky Tiger
- Lucky Tiger is a brand name for a line of haircare products including Butch Wax.
- Also mentioned in "Barbershop": "Bay rum, Lucky Tiger, butch wax, crackerjacks Shoe shine, jaw breaker, magazine racks."
(7) Doughboy n.: U.S. army infantry soldier. Very common during WW-1. Orig. commonly supposed to be that infantrymen pound the mud of roads into dough (Source: Dictionary Of American Slang, Wentworth/ Flexner)
(8) Birmingham: Also mentioned in Gun Street Girl, 1985: "And now he's dancing in the Birmingham jail."